Earn your Master's in Management online – for just under $12k
Gain pivotal business skills in just one year
Whether you want to switch your career or grow where you are, the online master's in management is designed to help professionals like you – at any career stage – reach their goals. Our iMSM program offers not only flexible learning from any location and time zone, but also a highly engaging curriculum that will give you an advantage in any field.
$11,952 tuition and fees – pay as you go
12 - 60 months to complete – you set the pace
Fully online – no on-campus commitments
GMAT/GRE – not required for admission
Request more information
Complete this form to receive information about curriculum, admissions, tuition, and upcoming events.
Reach your goals with the power of a versatile degree
No matter what field you're in or how long you've been in it, the iMSM is designed to deliver on your goals.
Gain knowledge and tools that are relevant, essential, and immediately applicable.
Develop confidence by expanding communication and leadership skills.
Understand – and be able to discuss – new technologies, global change, and market trends.
Apply integrative thinking and problem solving across areas such as finance, marketing, operations, and accounting.
Stack your iMSM into the Gies iMBA
With your Master's in Management in hand, you'll be eligible to apply all 36 credit hours you've earned toward our 72-credit-hour iMBA, instantly taking you halfway to completion.
Whether you want to keep the momentum going and transition directly into the iMBA, or you decide to return years later to support new career goals and growth, this opportunity further enhances the flexibility and long-term value of your iMSM.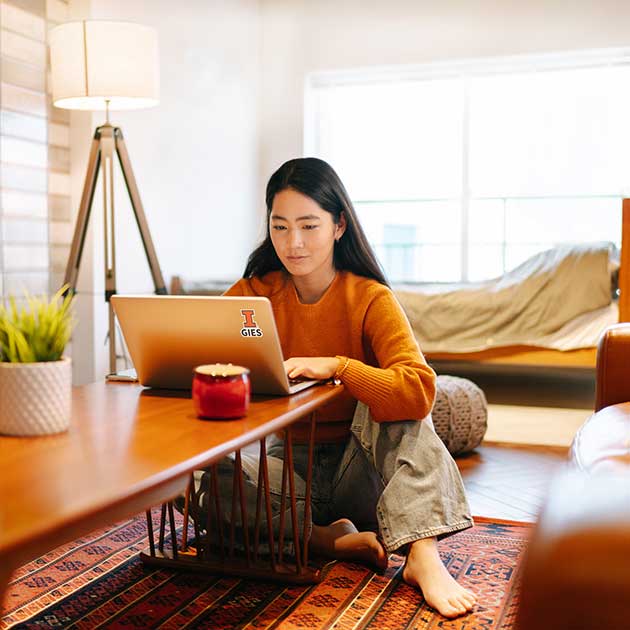 Benefit from a deeply engaging learning experience
You need a flexible degree program that doesn't require you to put your life and career on hold, and you deserve a learning experience that delivers exceptional growth and impact. That's why we've built engagement into our course structure and curriculum.
Engage with top University of Illinois faculty, who lead lively discussions during class and connect with learners individually during office hours, where they focus on your goals and success.
Engage with fellow learners around the globe in live class sessions and through regular team projects. Connect with your diverse cohort in ways that expand both your knowledge and your network.
Start your journey towards a degree
Attend an info session
Meet faculty, ask questions, and discover the best path for your goals.
Upcoming Events
Talk with our admissions team
Meet one-on-one with our team to discuss application questions.
Begin your application today
View admission requirements, application instructions, and upcoming deadlines.
Will my management degree say "online"?

No, it will say Master of Science in Management from Gies College of Business at the University of Illinois Champaign-Urbana.
Can I try a course before I apply or enroll in the full degree?

Yes, you can get started with specializations and courses on Coursera to try out the asynchronous portions of iMSM coursework before or while you apply.
What networking opportunities are available?

There will be a ton of networking opportunities available. You will meet many people and talk with them all during your degree plan.