Experience online learning that's both interactive and rigorous
We go to great lengths to create an online learning platform that engages, stretches, and inspires you – no matter where you live or what your schedule looks like. In fact, over 300 hours of behind-the-scenes planning and support go into each of our online courses, optimizing your learning experience and the impact it has on your career.
What's an average week like in a Gies online master's program?
Generally, you will spend 10-15 hours per class, per week. The course load is flexible – you can take one or two courses, or skip a term depending on your capacity.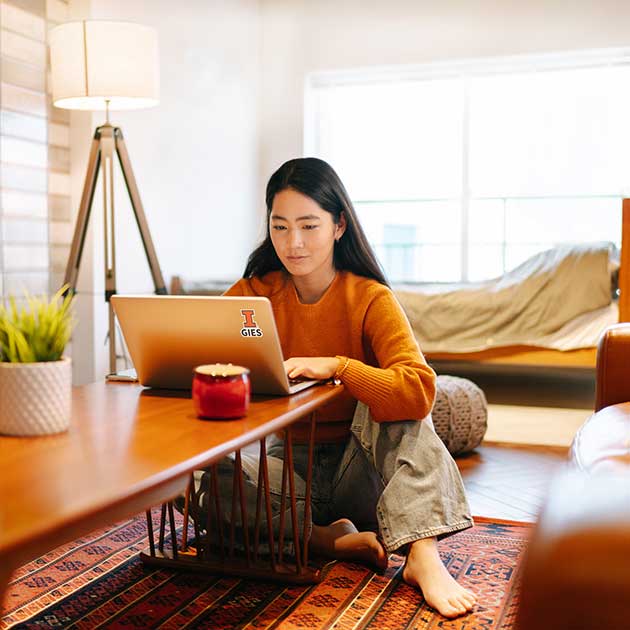 4-5 Hours
Complete the Coursera component
Learn the fundamentals by completing the on-demand component. Access weekly course modules through Coursera to develop your core business knowledge. Coursera serves as your textbook for the course and you will build on this material during the live sessions.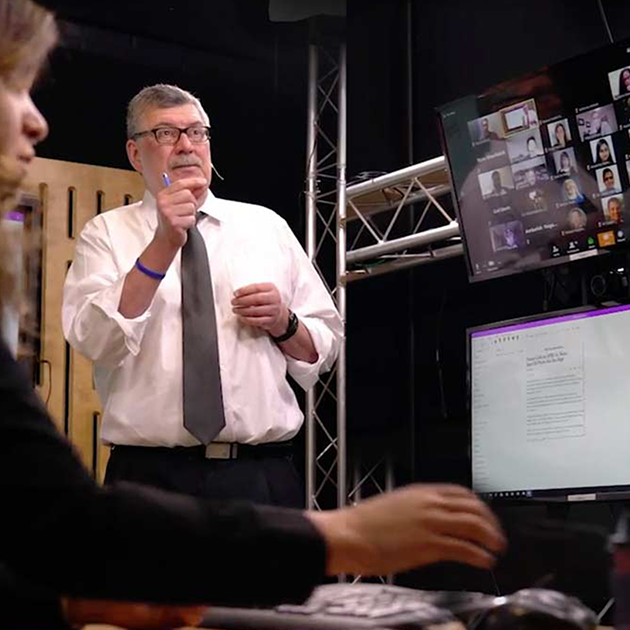 1-2 Hours
Attend a live class session
Join the global classroom via Zoom for a live lecture and discussion – as well as engaging interactions with your professor and classmates. Can't make one of the live session times? No worries – they are recorded and are available on demand.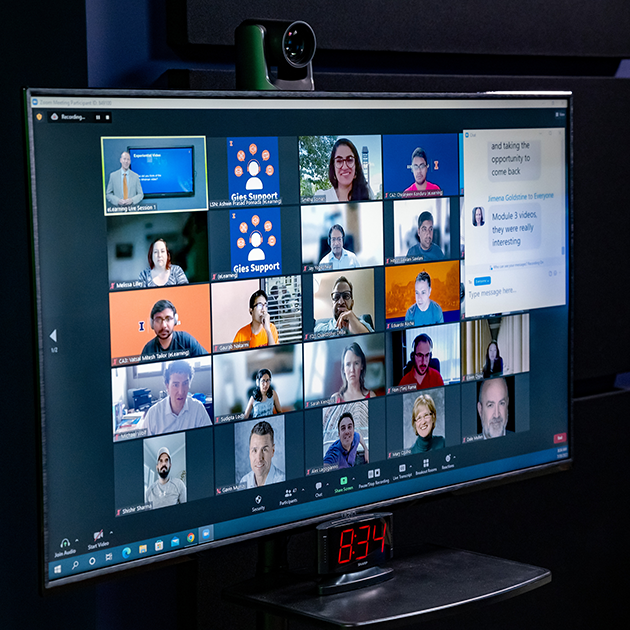 5-8 Hours
Complete an individual or team project
Apply what you learn each week through a weekly assignment on Canvas, designed by your professor to translate business theory into practice.
Learning platforms that lead to success
Each platform you'll use as an iDegree student has been intentionally chosen to optimize your user experience and level of engagement. At Gies, we utilize carefully selected platforms to create an engaging online learning environment.
Coursera - Your Virtual Textbook

Each of your courses features a corresponding Coursera MOOC (Massive Open Online Course). These asynchronous MOOCs are taught by top Gies faculty and can be completed at your own pace. Many learners view MOOCs as their virtual textbook.

Videos
Self-Assessed Quizzes
Assignments
Peer Evaluations
Zoom - Live Classes & Office Hours

Weekly live classes and office hours are hosted on Zoom. In class, you'll learn from and engage with top faculty and peers.

Breakout sessions let you work collaboratively with classmates
Get support from course assistants and a TA
Offered at least two different times to accommodate schedules
Attendance is optional, but our learners overwhelmingly opt in to elevate learning and networking
Live session recordings are available after class

Weekly office hours

Meet with professors and associate instructors committed to your personal success
Get help on coursework or explore course topics in further depth
Hour-long office hours let you drop in as needed, without making an appointment
Canvas - Teaching & Learning Hub

Canvas is a dynamic, convenient teaching and learning hub. Here you'll find all the materials associated with your live, faculty-led courses.

Advanced Case Studies & Exams
Peer-Driven Discussions & Tutoring
Team/Group Projects
Faculty/TA-Graded Assignments
"I was worried that having an online education wouldn't be as engaging as being in person, but actually, it's more engaging because your professor is right there in front of you - you're not sitting in the back row."
- Lucy Chang Evans, iMBA