If you have questions about admissions, tuition, curriculum, or anything else about our online programs, we're here to help. Feel free to contact us using any of the services below.
Attend
Virtual Events
Attend a mock class, meet faculty and students, ask questions, and discover the best path for your goals.
Meet
Admissions Meetings
Meet one-on-one with someone from our admissions team to learn more about our programs or discuss your application questions.
Request
Request Information
Sign up to receive information about upcoming events, academic programs, and important deadlines.
Meet our recruitment and admissions team
Retail credit exec discovers new opportunities with Gies iMBA
Dec 7, 2021, 15:11 by Aaron Bennett
Evolving professional and personal goals led Denise O'Brien-Peterson - SVP, Partner Management, Citi Retail Services - to pursue an MBA fully online at Gies College of Business.
Evolving professional and personal goals led Denise O'Brien-Peterson to pursue an MBA fully online at Gies College of Business.
"I wanted to continue to build my skill set and be able to engage more insightfully with other business leaders and stakeholders," said O'Brien-Peterson, SVP, Partner Management, Citi Retail Services. "I work for a global organization and wanted to better understand how to think about global issues and challenges. Also, it was important for me to focus on the transition to a digital-only transactional world."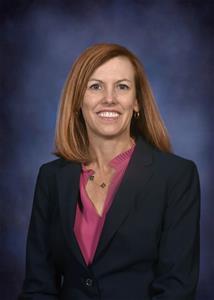 O'Brien-Peterson also wanted to prove to herself she was an effective leader after a health scare.
"Unfortunately, I was diagnosed with a brain tumor shortly after I delivered my son in 2013, which resulted in an operation days after he was born. The iMBA was a way for me to challenge myself to excel at an advanced level and prove to myself I had not changed, but I had enhanced myself," said O'Brien-Peterson, who chose the iMBA's digital marketing and global challenges in business focus area specializations and graduated in 2020.
The Naperville, IL, resident began exploring MBA programs in 2016 and ultimately chose Gies' fully online iMBA because of the program's structure and the school's reputation.
"Commute time becomes precious when you're a mom. Working full-time, being a parent and a spouse meant I needed to identify a curriculum and structure I could manage," she said, advising anyone considering an MBA to set expectations up front of how it will impact their availability and personal commitments. "Sundays became days that were dedicated to reviewing course content, group projects and completing assignments."
O'Brien-Peterson said she benefited from the way the coursework expanded her knowledge of subject areas such as managerial accounting.
"The class turned out to be very challenging, but the professor made it enjoyable. He taught the course material in a way that one could immediately correlate to their professional role within business," she said.

She also found that one of the biggest misconceptions about online programs is that they lack a sense of community.
"There is a tremendous amount of dialogue and exchange of information that enables you to have meaningful conversations and learn from each other. You gain different perspectives and really challenge one another," she said. The iMBA was the frontrunner in democratizing education and building a uniquely connected global alumni.
O'Brien-Peterson was promoted from a role focused on program management to strategic management about halfway through the program. She has gained more responsibility for client relationships, strategic partnerships, program deliverables, and manages an extended number of cross-functional direct reports. She also just finished as co-chair of the Chicago Citi Women's Network.
O'Brien-Peterson added the discipline she learned while earning her degree has been especially helpful as she transitioned to virtual collaboration during the pandemic.
"Because work and home became blended during COVID19, I've gone back to carving out specific time for work responsibilities. There can be extenuating circumstances, but that's the exception, not the norm," she said.