Earn your online MBA with Illinois Gies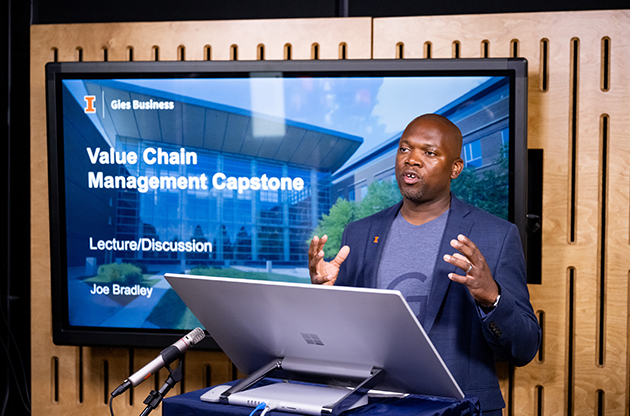 A premier degree in a flexible, online space – for just under $24k
If you're like most professionals, there's no such thing as a convenient time to interrupt your career – or add tuition to your budget.
The unmatched flexibility and affordability of our online MBA (iMBA) puts the degree within reach, and our highly engaging courses – taught by top University of Illinois faculty – are designed for real-time application to your job.
$23,904 total tuition and fees – pay as you go
24 - 60 months to complete – you set the pace
Customizable curriculum – choose your path
Fully online – no on-campus commitments
GMAT/GRE – not required for admission
Request more information
Complete this form to receive information about curriculum, admissions, tuition, and upcoming events.
Enjoy an ROI that begins even before you finish
As soon as you start your Gies MBA, the benefits kick in. Being a graduate student at top-ranked University of Illinois means you're learning from world-renowned faculty experts with decades of experience in their field.
You'll also be absorbing timely, relevant course content you can put to work the next day – and our data shows that employers take notice.
Will my degree say "online"?

No, it will say Master of Business Administration from Gies College of Business at the University of Illinois Urbana-Champaign.
What is the time commitment per week?

Generally, you will spend 10-15 hours per class, per week. The course load is flexible – you can take one or two courses, or skip a term on your capacity.
Are classes synchronous or asynchronous?

Each iMBA course has two structural components.

One component is the self-directed, asynchronous part of the course, which will help you develop the baseline, foundational knowledge. That material comes in the form of pre-recorded videos, which you can watch at your convenience, as well as complementary readings.

The second component is what we call the high engagement part of the course. This is an additional layer that goes on top of the foundational, baseline knowledge. It is an expansion of the depth and the breadth of the first set of materials. It involves weekly live sessions, where you will be in a virtual classroom with faculty and your classmates. Faculty will be presenting additional materials or case analysis. During the live sessions you will have the opportunity to ask questions, and to present your work, either individually or as a group.